Are you ready to check out some stunning window styles for 2022? Homeowners often forget that new window installation is a great chance to update a home's window styles. For instance, larger windows let in more sunlight, tilt-in panes ensure easy cleaning, and casement windows ensure smooth operation.
If you're in the market for new windows this year, check out the top 7 styles from which to choose. Discuss these options with a window installation contractor near you as needed. He or she can ensure you opt for the best window design for your interior spaces!
The Best Window Styles for 2022
Here is a quick countdown of the top 7 window styles for 2022, sure to enhance the beauty of your home!
1. Picture windows for awkward corners
Awkward corners of a home can mean dark, dreary spaces and an uninviting atmosphere. To combat this problem, consider picture or stationary windows! Picture windows don't open or close but offer a great view of the outside. They also let plenty of sunlight into your home's interior!
Since picture windows don't open or close, they can typically be cut to fit just about any odd space. You might add them to an office, laundry room, or other area in need of sunlight. Picture windows are also excellent behind soaking tubs, so you can enjoy the view while you relax.
2. Oversized casement windows behind a kitchen sink
Windows in a kitchen let you vent hot air and airborne grease easily, ensuring a comfortable environment. Windows over the sink also provide a great view during food prep or cleanup! This year, look for oversized casement windows behind the kitchen sink, to accomplish both.
Casement windows open on the side, like a door, usually with a small crank at their base. Choosing oversized casements allows you to control airflow in the kitchen while keeping the space bright and welcoming.
3. Add space with bay windows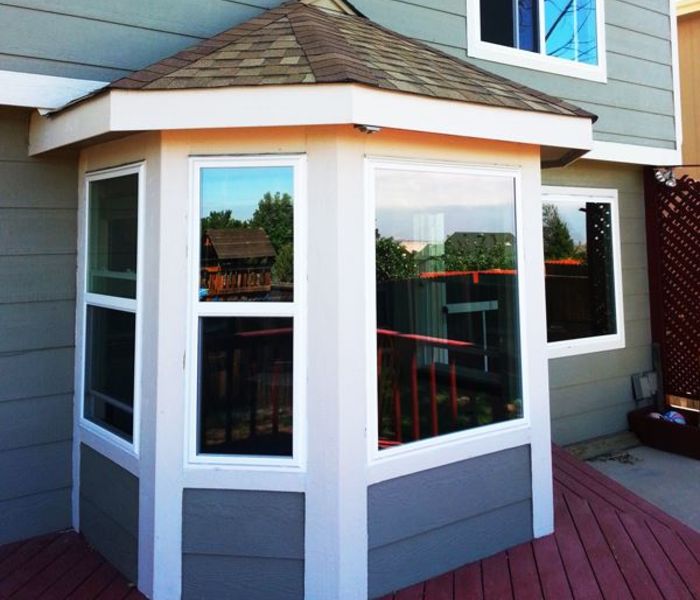 Bow and bay windows jut out from a home, with either 3 or 5 separate window panels. These allow added light and fresh air into the house while creating a seating area inside. While always a popular option for many homes, they're becoming a very hot trend for 2022!
One reason homeowners are returning to bay windows is that they're still spending more time indoors, due to COVID-19 restrictions or precautions. In turn, it's vital that your home be as comfortable and inviting as possible! Bow and bay windows mean added seating and a cozy reading nook you're sure to love.
4. Double hung windows for bathrooms
Double-hung windows have two panes, one above the other, both of which open and close. Being able to open the top pane allows for added ventilation in a bathroom space! You can easily remove steam and warm air from the bath with a double-hung window.
Venting steam is not just a matter of comfort. The more steam that lands on walls and other surfaces, the greater the risk of water damage! Steam can also carry soap and shampoo residues, creating unsightly streaks. To protect your home, consider double-hung windows in your bathroom space.
5. Louvre windows, for privacy!
Louvre windows use rows of small panes that open on a hinge. Opening the panes allows for airflow and sunlight while closing them ensures privacy! Louvre windows are a great choice for family rooms, sunrooms, and other spaces where you want to enjoy the feeling of an open window while controlling who can see inside.
6. Glass blocks in walk-in showers
Walk-in showers are a favorite choice for today's bathroom designs. These allow for a comfortable showering experience, with room for built-in seating and multiple showerheads. However, one drawback is that walk-in showers can seem a bit dim and dark!
To overcome this issue, bathroom renovations often include block windows for walk-in showers. Glass blocks let in light and keep the space open and bright while providing full privacy.
7. Vinyl and fiberglass frames are a hot trend
Along with a new style, remember to choose a durable frame for your home's windows. Vinyl and fiberglass are probably the two most popular frame materials used today. Both are tough and durable yet lightweight and easy to operate. Both also help insulate the space around a window, for a comfortable interior.
What Type of Window Is the Most Energy-Efficient?
Energy-efficient windows are always in style! The more energy-efficient the window, the more outside heat and cold it blocks. Efficient windows also keep in heated and cooled air, so your appliances cycle on less often.
Double-glazed and triple-glazed windows have 2 or 3 panes of glass, offering added energy efficiency over single-glazed windows.

Argon and krypton gas between those panes are also more energy-efficient than air.

Low-E or low-emissivity glass panes block outside heat and cold while still letting light into the home.

Other window tinting options can also block hot sunlight, keeping interior spaces cool.

Wood, vinyl, and fiberglass frames don't conduct heat and cold as well as metal frames. Choose one of these styles versus metal, for maximum energy efficiency.
Your window installer can also advise the right option for your home, depending on the weather in your region, sunlight exposure, and other such factors.
What Is the Most Popular Style of Window?
Single-hung and double-hung windows are the most popular window styles for 2022. Both are very affordable and fit just about any home style. Double-hung windows allow for added ventilation, especially for heat, smoke, and other irritants that tend to drift toward the ceiling.
However, both single-hung and double-hung windows might seem a bit dull and drab. If you can fit another style into your budget, consider casement windows, which allow for an unobstructed view. Sliders are also extremely easy to operate, as you don't need to lift or lower the pane. Your window installation contractor can also offer custom suggestions for your home!
Denton Home Window Replacement is happy to bring you this information about the 7 top window styles for 2022. Hopefully, you've found some useful suggestions in this list! If you're ready to update your home's appearance and energy efficiency, call our trusted Denton window replacement contractors. We'll schedule a FREE installation consultation and price quote. For more information or to get started with your stunning window installation, call us today.