Are you a homeowner asking, what is the process for new window installation in Denton, TX? Many homeowners have concern over the time it takes to replace windows. Also, you might be worried about a potential mess inside and outside your home!
In truth, getting new windows isn't as inconvenient as you might assume. Additionally, knowing more about the process for new window installation for Denton homes can help put your mind at ease. Check out some vital information about how this process works from start to finish. Then, you can discuss your needs with a window installation contractor near you!
How a Denton Window Installation Contractor Starts the Process
Your Denton window installation contractor should first schedule an in-home consultation with you. He or she needs to evaluate a window's current condition and if the frame is usable. Additionally, your contractor should discuss window style options for the space.
For instance, you might struggle to open and close single-hung windows over a kitchen sink. Your contractor might then suggest sliders or casement windows with a crank for opening. Also, he or she might suggest bay windows for added light or custom windows for awkward spaces.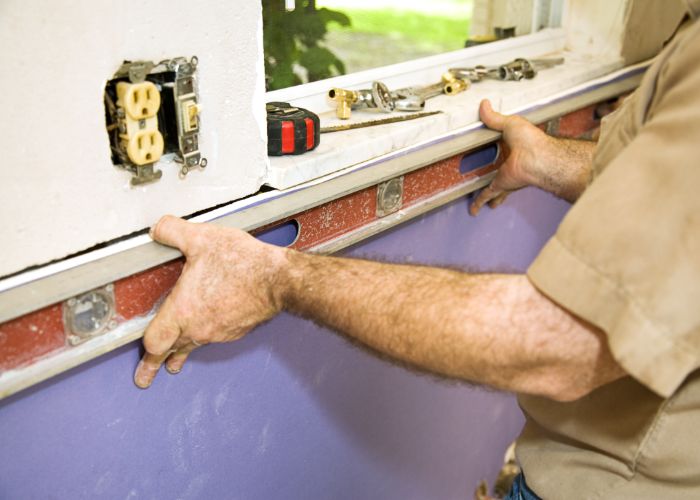 In addition to window styles, a contractor should help you decide the frame material. You might choose vinyl or fiberglass, which are both durable and easy to operate. On the other hand, natural wood offers a very pleasing aesthetic, although it needs consistent maintenance. Once you've decided your desired window style and size, your contractor usually then takes measurements.
Why Contractors Typically Order New Windows
After deciding on your new window details and taking measurements, your contractor will usually order new windows from the manufacturer. One reason for this is that windows degrade over time, so that older windows aren't as durable as newly manufactured. Two, this ensures exact measurements, right down to an eighth of an inch!
Ordering new windows also ensures that the glass, frame, and other pieces are spotlessly clean. Storing windows in a warehouse exposes them to dust, dirt, and other airborne debris. That debris can work its way into those small crevices around a window's frame. In turn, ordering new windows ensures they look their best when installed in your home.
The Process for New Window Installation in Denton, Texas
Once your new windows arrive, it's time for installation! First, your contractor covers anything in the vicinity including outdoor landscaping and indoor furniture. Next, the contractor needs to cut out the old window and remove it.
The area around that open space then needs cleaning. He or she will next fit in the new window; this step usually requires assistance! Additionally, he or she will take their time, ensuring the window is level and even as they work. Nails, caulk, and other fasteners keep the window in place.
Once installed, the contractor will typically test the window repeatedly, ensuring a smooth operation. Cleaning the window is next, for a sparkling shine. The contractor will then remove their protective coverings and your window installation is complete!
How Messy Is New Window Installation?
Cutting out old windows does typically involve some mess. Contractors need to scrape away old caulk and other pieces. Additionally, they might also remove old nails and sand down the existing frame. This can mean dust and other debris in the nearby vicinity.
However, note that contractors will typically put down protective tarps over landscaping and furniture, as said. They will also try to contain that mess as much as possible! In turn, you might not need to do anything but dust lightly or run the vacuum cleaner after your new window installation.
Are New Windows Worth It?
No matter the mess and inconvenience, new windows are an excellent long-term investment for any home! One reason to choose new windows is that they improve interior insulation. Two, updated windows can also enhance curb appeal and your home's appearance overall.
Above all, new windows typically increase property values as well as its appearance and energy-efficiency. You can often enjoy an 85% return on your investment in terms of increased home values when you choose new windows! You'll then build equity in your home faster and sell it more quickly if you should put it on the market.
Denton Home Window Replacement is happy to help explain, what is the process for new window installation in Denton, TX? We hope you found this information helpful and informative. If you're ready for new windows in your home, call our expert Denton window installation contractors. We offer FREE consultations and energy-efficient options you're sure to love. For more information, contact us today!