New window installation in Denton, TX, is an excellent investment for any home! Updated windows improve curb appeal and offer a stunning view from interior rooms. Old windows can also be difficult to operate and offer little insulation for your home.
If you've never scheduled window installation for your home, you might wonder what happens during the process. To better understand what to expect, check out some added details about new a typical residential window installation project.
The First Step in New Window Installation in Denton
Your first step with new window installation in Denton is to meet with an installer or contractor! Usually this initial meeting takes place in your home, so he or she can inspect and measure its current windows.
You can then discuss window operation styles, sizes, and other details with your installation contractor. For example, you might want to swap out your dull single-hung windows for easy-to-operate slider windows.
Also, larger windows, even if they're the same style, let in more light and fresh air. Most importantly, investing in energy-efficient panes can mean lower utility costs year-round! You can even increase property values with energy-efficient windows, in some cases.
If you're not sure the best window option for your home, don't hesitate to tell the installer! He or she can explain the pros and cons of various options and styles. They can also recommend various upgrades, depending on what's popular in your area and for your home's style.
Preparing a Home for Window Installation
First, note that window contractors typically order windows after you've signed an installation contract. Glass panes, wood frames, and other pieces warp or suffer other damage over time. Rather than risk installing old, warped windows, most installers opt for newly manufactured windows!
Once your windows have arrived, the installer will make an installation appointment. Ensure you've removed all furniture, wall shelving and art, and anything else near the windows needing replacing. Your installers should also set down protective sheeting or tarps inside and outside the home.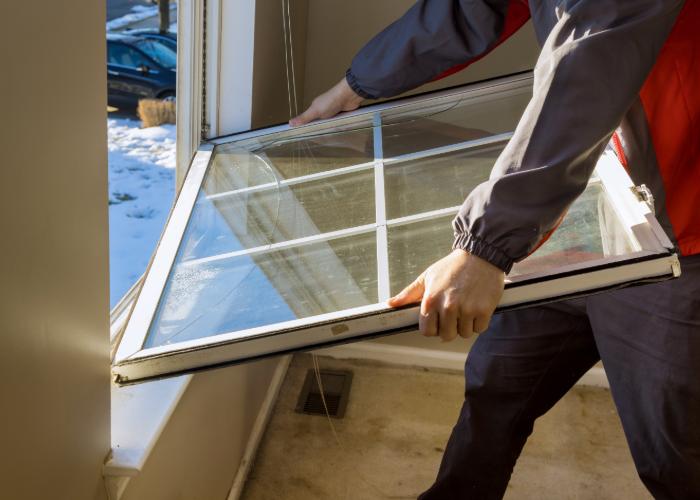 Homeowners might want to review their new windows as they're brought into the house. Confirm that they're the right style and ask the installer to measure one more time, before existing windows get removed. This will ensure there have been no mistakes at the factory, during transport, and the like!
In most cases, a window contractor will begin removing the existing windows while other installers begin bringing in the new windows. The contractor will need to cut around the existing adhesives and unscrew the window from the frame. Once removed, the frame and sill are typically cleaned and prepared for a new window.
If you've decided on a new window style, your contractor might need to cut through the home's framing and exterior cladding. This process might also include redirecting electrical wiring and anything else behind the walls. The space then needs finishing, to prepare it for a new window installation.
What Happens During a Window Installation?
New window installation isn't as simple as you might assume! Windows have sash weights to keep them in place when opened or closed. Ropes for these weights are cut to the right measurements. Weights then drop to the window pocket.
A new window is then placed in the frame with caulk and other adhesives. Pounded shims push the window into a level position. The installer will check its level repeatedly throughout this process. Once level, the window is nailed into place.
Once the windows are in place, an installer will usually add finished trim. Cladding or trim helps keep windows airtight and firmly in place. Stickers on the glass are often left in place, as these contain warranty and other vital information.
How Much Does New Window Installation Cost?
Homeowners might spend between $3000 and $9000 for new window installation costs across their entire home. A single window might average $100 to $650 for the window itself, and then $100 to $300 for installation.
No matter your new window installations costs, this is not a DIY job! Cutting away the old window is difficult and cumbersome. Additionally, it's vital to check for a window's level before nailing it in place. Improper installation often results in gaps around the window, difficulty opening and closing the pane, and other serious issues.
Denton Home Window Replacement is happy to provide this information about new window installation in Denton, Texas, to our readers. Hopefully you found it helpful! If you're in the market for upgraded windows around your home, call our Denton window installation contractors. We offer FREE consultations and price quotes. To find out more, contact us today.