Homeowners needing new windows often ask, is window installation messy for Denton properties? This is certainly a fair question, as window installation means cutting away existing caulk and adhesives. Obviously, you don't want these materials, along with paint chips, wood shavings, and other debris, left behind!
If you're considering a new window installation in Denton, don't let worries about the mess stop you from making that call. New windows can mean improved insulation and a better view inside and outside your home. Also, home values typically increase with new windows! Check out some added information about window installation mess so you know what to expect from your new window selection.
How Messy Is Getting New Windows?
First note that getting new windows means a good deal of mess. Installers might scrape off paint, caulk, wallpaper shreds, wood framing, and other materials. Consequently, window installation often means layers of dust and debris both inside and outside the home! In truth, getting new windows means turning that area of the home into an active construction site.
However, the good news is that window installers prepare for this mess accordingly! One step they typically take is to set down tarps under the window, both inside and outside the house. Two, installers will usually recommend what homeowners might do to reduce mess and potential damage. For example, they might suggest removing furniture from a room or covering it with sheets or tarps.
Above all, consider that you can quickly clean any mess created by window installation! A household vacuum is sufficient for removing dust and debris. Also, standard cleaners remove leftover grout or caulk easily. Lastly, the many advantages of new windows offset any mess you might encounter!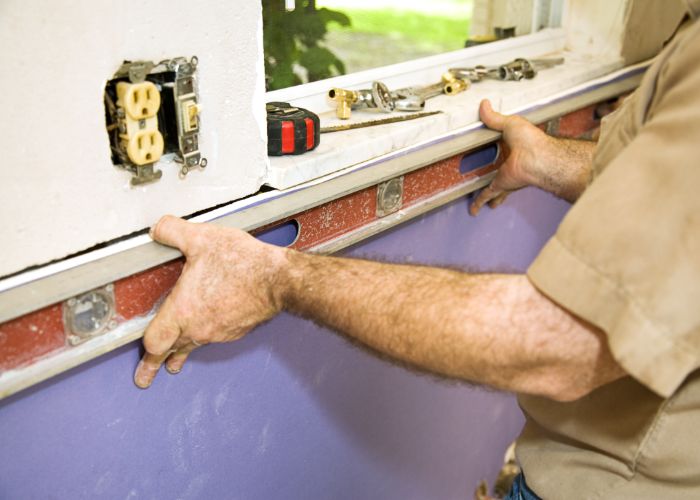 How Disruptive Is Installing New Windows in Denton?
Ironically, steps installers take to protect your home from mess is probably the most disruptive part of new window installation! One step they take is putting down tarps around a room, to protect carpet and furniture from debris. Two, they might have you remove furniture, electronics, and other items from the room. Lastly, they need to take down curtains, blinds, and other window treatments!
Not only is this disruptive, but you'll need to return those items once a contractor has installed your new windows. In turn, your window installation project might take longer than anticipated and mean more cleanup than expected. However, these are small inconveniences when you consider the long-term advantages of new windows.
Do Window Installers Need to Come Inside?
Whether window installers need to come inside often depends on your home's construction. If the outside wall is wider than the inside, exterior installation is often easier. However, don't assume that contractors don't need to access your home!
For example, a contractor might need to cut away grout and adhesives from inside the home. Also, they might need to check that the window is level and even, and fits properly, from inside. These simple steps ensure a proper fit without gaps or leaks around a home's framing.
Should You Move Furniture for Replacement Windows?
Homeowners can protect their personal items and make a contractor's job easier by moving furniture for window replacement! First note that new windows are heavy and cumbersome. Second, consider dust and debris created with new windows.
In turn, it's helpful to clear a path for contractors so they don't need to lift or otherwise maneuver windows around furniture. Also, even the best tarps don't necessarily keep all dust away from furniture. With this in mind, consider taking as many pieces out of the room as possible.
Additionally, homeowners should consider taking down pictures and knickknacks from areas around window replacement. In addition to these items, you might also want to take down window treatments yourself! You can then set them aside in a safe place where there's no risk of damage while contractors work.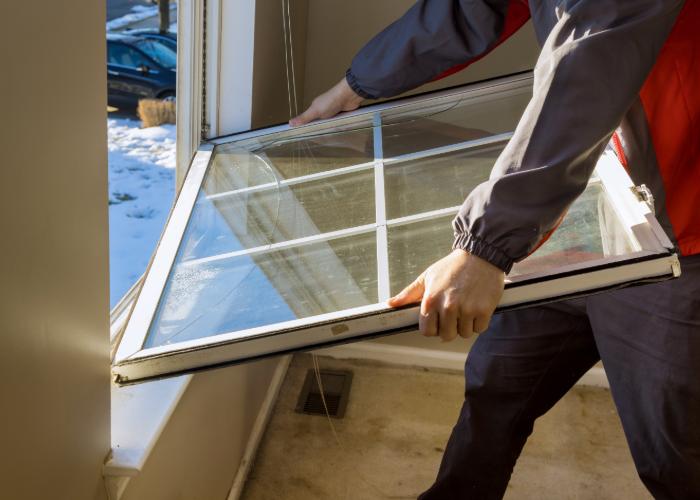 Does Replacing Windows Ruin Walls?
While replacing windows doesn't ruin walls, any cutting to a home's framing weakens it structurally. Additionally, window replacement might mean some damage to drywall, stucco, and other surface materials.
That being said, this damage is fixed easily! Joint compound and drywall tape fill in scrapes left behind by installation contractors. New stucco also fills in cracks along plastered walls. Also, note that a new paint job and trim around a window can hide imperfections and offer a stunning new look!
Above all, remember that your new window installation is worth a bit of trouble and mess. The money you save on utility costs alone can be worth those few extra minutes of cleanup. You'll also enjoy a more stunning home appearance, increased property values, and easier window operation.
Denton Home Window Replacement is happy to help answer the question, is window installation messy? Hopefully you found this information informative! If you're looking to increase your home's appearance and energy efficiency, call our Denton window installation contractors. We offer a range of new window options, sure to fit your home's style and your budget. For your FREE consultation, contact us right now!