Are picture windows energy efficient? This is a fair question, as no homeowner wants to lose heating or cooling through windows in their home! Picture windows let in lots of light and provide a stunning view to the outside. However, if they mean higher energy costs and an uncomfortable interior space, they're not a good choice for anyone.
The good news is that picture windows can be just as energy efficient as any other window style. In some cases, they can even increase interior insulation and energy efficiency. If you're in the market for new windows, consider some details about this style. Then, you can discuss your choices with a window installation contractor near you as needed for picture window replacement.
Are Picture Windows Energy Efficient?
A window's energy efficiency depends on its glass manufacture, seal, and frame material. Additionally, its installation also affects whether it helps keep in your heating and cooling while blocking outside weather. Check out some details about each of these factors when it comes to windows. You can then see how picture windows are more energy efficient than other designs!
Window glass and energy efficiency
The more panes of glass in a window, the more energy efficiency it offers. Glass panes are like layers of protection; the more layers, the less outside heat or cold that enters the home. Those panes also keep your heating or air conditioning inside the house.
If you hear the term "glazed" for windows, this refers to the number of window glass panes. In turn, you should choose double-glazed or triple-glazed windows for maximum energy efficiency. These have two or three glass panes per window.
Additionally, certain glass coatings keep out heat and cold while keeping in your heating and cooling. Low-E coatings block UV rays and resultant heat, without blocking light. These are excellent in especially warm areas of the country.
Frame materials and energy efficiency
Vinyl windows offer more insulation than wood, while aluminum might conduct heat and cold! Additionally, wood frames are more prone to warping and sagging over the years. In turn, they can pull away from the home's framing. This leaves gaps that allow in outside heat and cold.
How are windows sealed?
A window's seal or how it's attached to the frame affects its overall efficiency. Note that a picture window seals directly within its frame. Consequently, picture windows are often more energy efficient than other models!
Also, since picture windows don't open or close, they're not likely to form gaps around that frame over the years. Most other windows will have small gaps around the pane that moves. In turn, the window is likely to let some outside air into the home's interior, even when closed. Picture windows don't have this gap, making them very energy efficient.
What Is the Difference Between a Picture Window and a Bay Window?
A picture window is one pane of glass sealed to a frame. A bay window has three panes that jut out from the home at an angle. Additionally, note that bow windows can open and close. On the other hand, picture windows don't open.
Also, bow windows are similar to bay windows. Bow windows have five panes while bow windows have three. Both bow and bay windows create added room inside the home. Consequently, many homeowners opt for a window seat in that spot, creating a cozy reading nook!
When Should You Use a Picture Window?
The difference between a picture window and stationary window is that a picture window has a slimmer frame. This allows for a less obstructed view to the outside. Additionally, a picture window is typically a very large rectangle. On the other hand, a stationary window might be any shape and size!
In turn, consider a picture window where you want to really enjoy the view or lots of sunlight. For instance, if there is stunning scenery behind your home, consider a picture window for the family room. Additionally, a picture window is excellent in an office, where you want to keep the space bright and welcoming.
Also, if privacy allows, consider a picture window over a soaking tub in the bathroom. You can then relax and enjoy beautiful sunshine during the day or a great view of the night sky after a long day's work!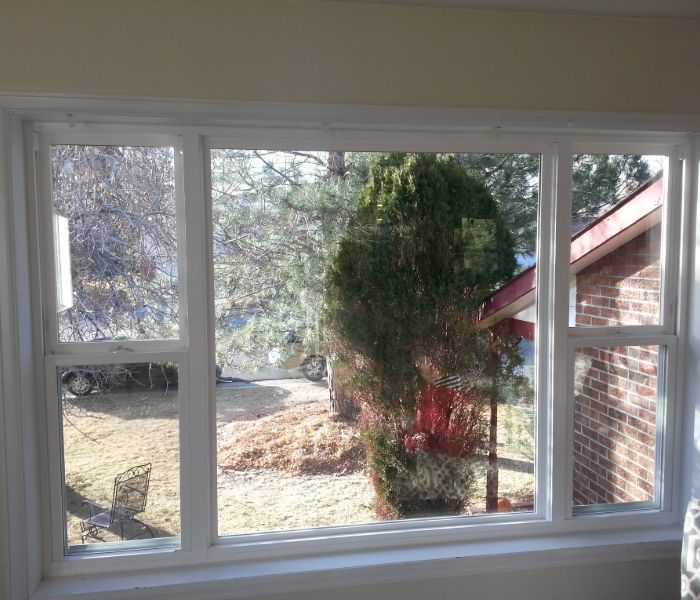 Are Picture Windows Cheaper Than Sliding?
Window prices depend on size, glass quality, and frame material. If you're comparing windows with all these same factors, you might find that picture windows are often cheaper! One reason for this is that picture windows don't have moving parts. In turn, they require less time and cost to manufacture.
Additionally, you might find that it's cheaper to maintain picture windows over time. They don't have cords or other operating mechanisms that might break. Also, you don't need to replace locks on picture windows since they don't have any! With less risk of gaps around the frame, you also might avoid repeated weatherstripping.
Are Picture Windows Out of Style?
Picture windows are never out of style! They're an excellent choice for any room where you need added sunlight and a great view of the outdoors. Additionally, you can choose modern framing that matches your home's décor and style.
Note, too, that you might also pair picture windows with a variety of other windows, for even more visual interest. For example, you might opt for a large picture window between two tall, narrow windows. If the narrow side windows open and close, this allows for fresh air circulation. This also helps break up what might otherwise be an overly large window.
Denton Home Window Replacement is happy to help answer the question, are picture windows energy efficient? Hopefully you found it helpful! If you're ready to update your home and increase its style and energy efficiency, call our Denton window installation contractors. We offer FREE in-home consultations and design quotes. Additionally, we guarantee all our installations to last. For more information or to get yourself started with your no-cost quote, give us a call today.